There are a number of reasons to conduct a case history for a new or returning massage therapy patient/client.  The case history helps to identify:
the source of the symptoms or dysfunction, and how to best intervene
contributing factors: environmental, emotional, behavioural, physical and bio-mechanical
precautions or preclusions (yellow or red flags) in conducting the assessment or treatment
Prognosis ie: how a person's response to your intervention is determined by general health, extent of injury, expectations, lifestyle, and personal resilience
Probably the most important reason is to reduce risk of harm.  The case history is an essential tool for teasing out precautions and preclusions.  Here's an excerpt from Charting Skills for Massage Therapists:
Precautions and Preclusions – Yellow and Red Flags
In the sports arena, a yellow flag indicates pre-caution when proceeding – a red flag precludes further action…stop!

As practitioners, when yellow or red flags present in the case history or assessment, they provide us "cause for pause" to ensure our care will not be harmful.  Primum non nocere... "First, do no harm."
Fairly basic and common symptoms might have more serious underpinnings.  It's important to attach additional questions to any yellow flags – including pain – that present themselves, and identify red flags that may require immediate medical attention.
Nicola J. Petty and Ann P. Moore describe the dangers of underestimating pain:
Since (manual therapists) are now 'first contact' clinicians, we have assumed greater responsibilities.  While those interested in manipulation and allied treatments energetically improve their competence in the various techniques and applications, we might profitably spend a little time considering what we are doing all this for…. Pain distribution might confuse unwary or overconfident therapists, who may assume familiarity with a syndrome they recognize and then perhaps find themselves confronting the tip of a very different kind of iceberg.[1]
Martha Costello reiterates the importance of rigorous screening in the case history.
Bodyworkers should be cautioned—often, when a patient has seen a medical professional prior to consultation with the bodyworker, it is assumed that all organic or pathological causes for symptoms have been ruled out.
 Unfortunately, this often is not the case, as the prior medical examination may have been cursory, and a thorough history may not have been conducted.  It is not uncommon for even a review-of-symptoms questionnaire to have been extremely brief, painting a very incomplete picture of the patient's current and past health history. [2]
[1] N. J. Petty. A. P. Moore: Neuromusculoskeletal Examination and Assessment.  Churchill Livingstone 1998  p 28
[2] Martha Costello, DC: Chiropractic Rehabilitation: Journal of Bodywork and Movement Therapy, April 1998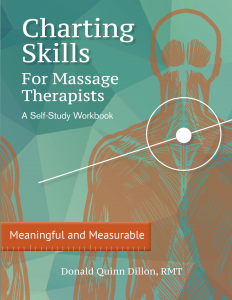 Are you using your case history as a tool to reduce risk of harm?  Would you like to build more competence in this skill?  Have a look at the Charting Skills for Massage Therapists program.
CEUs have been granted in NFLD/LAB, PEI, NS, NB, ON, MB and SK, with others pending.